Living Trends: 5 Reasons Why Homeowners Are Ditching Traditional Homebuilders and Using Shipping Container Homebuilders Instead
Mar 10, 2020, 14:46 PM
Let's face it: traditional home building methods are outdated.

Conventional stick build construction has remained stagnant for decades, in contrast to the continuous improvements and tech advancements that we expect in other areas of modern life. Looking for a convenient, affordable, environmentally friendly, fast home building solution better than what your parents had? Unfortunately, you won't get one with traditional home builders.

Thankfully, progressive real estate developers such as CNTNR Modular Building Solutions are challenging the status quo. CNTNR (a sister company to Copperblock Capital Corp.) is disrupting the industry with container-based architecture designed to combine the best in prefabrication principles, sustainable design, and cutting-edge living trends.

Read on to learn 5 reasons why you should consider modular construction with prefabricated shipping containers for your next project.
It's faster.
Have your home built in factory, on an assembly line, under climate-controlled conditions, and you achieve efficiencies that simply aren't possible with the traditional method of building a home on site from scratch. CNTNR prefabricates their sea-cans and completes the vast majority of the work off-site, resulting in a 30% compressed construction timeline.


The environment will thank you.
A shocking 96% of shipping containers sent from Asia to North America make a one-way trip, never to be used again. It's simply cheaper to have new ones made. CNTNR recycles these for use in the building envelope of their structures, saving tonnes of steel from piling up in the landfill and preventing 32 mature pine trees from being cut down for an average 2000 sq ft home. CNTNR has also standardized their modules to produce them at scale, which drastically reduces construction waste. The end result is a product that is 30% more energy efficient than a stick built home.


Sea-can homes are durable.
Sea-cans are made out of corten steel and engineered to endure harsh conditions at sea. As homes, they are mould resistant, fire resistant, and extreme weather resistant up to hurricane category 3 winds.


The quality can't be beat.
Shopping around for a homebuilder is tough. Even with a reputable company, the quality of craftsmanship can vary depending on individual worker standards. Use CNTNR however, and you are assured of factory-controlled precision, climate-controlled building conditions, and tight quality control measures that result in a consistent, state-of-the-art product.


The possibilities are endless.
8 feet wide garden and garage suites? Check. 2000 square foot cottages? Check. 9 storey office buildings? Check. Affordable housing projects that are hundreds of units large? Check. Anything is possible with CNTNR's standardized modules, which can be combined together like Lego blocks and completed with any exterior and interior finishes you desire.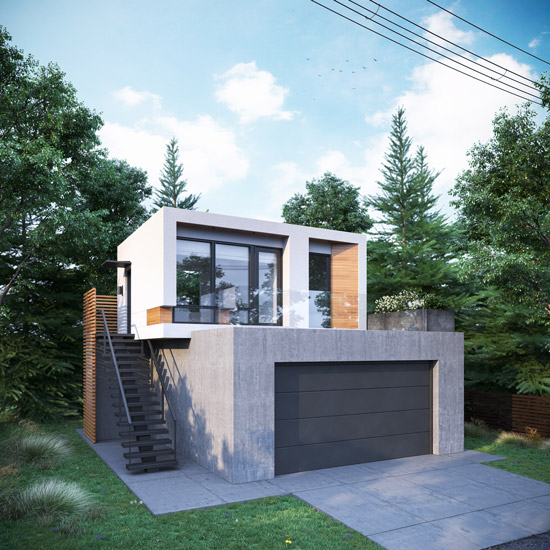 Thinking of getting your next project started? Schedule a free consultation at www.cntnr.ca to discuss how modular construction can help you achieve your home building dreams. You can also visit a CNTNR structure in person and talk to the developers of CNTNR technology, Adam Morris and Jon Schiedel, at the Edmonton Home and Garden Show occurring March 19-22 or the Winnipeg Home and Garden Show April 16-19.