How to maximize indoor to outdoor living
Spring is around the corner (we know…it's hard to believe with snow still on the ground), and we're starting to dream of future projects to accomplish to make the most out of our warmer seasons! That's where the experts come in! We caught up with Jennifer Woch from House of J Interiors, who is an interior designer and decorator in Edmonton. Jennifer is a local expert who will be at the Edmonton Home + Garden Show on March 24-27 at the Edmonton Expo Centre sharing her secrets to maximize indoor to outdoor living at the beautiful Hello From the Outside (or Inside!) feature.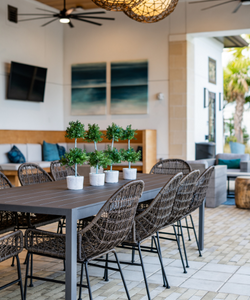 Jennifer strongly believes that our homes have become our haven more than ever before and with that homeowners are looking to maximize function and style of our homes. "The inside of your home isn't just "the inside", and your backyard isn't just the only place to feel one with nature," says Woch. "The best part of design is incorporating both seamlessly."
If you are looking for ways to create an indoor-outdoor living space, Jennifer says there are a few trends that you may want to watch out for. Sliding glass doors is huge for her clients wanting to optimize space and opens your home up to the outside which looks and feels super natural. If you're wanting to stay budget friendly (or not take down any walls yet), you can add outdoor inspiration to your indoor space to create the illusion of being outside such as indoor plants, and gardens with fun colors and textures on your plant holders to make it chic. If you are thinking slightly bigger, you can add flowing white sheers on your windows for a more airy vibe during the day and add patio lights inside for a more intimate evening as you enjoy a dinner party with friends.
When you think of indoor-outdoor space, the sky's the limit! Come see us and your favourite local experts at the Edmonton Home + Garden Show from March 24-27 at the Expo Centre to see how you can create the perfect living space.
Mar 18, 2022, 15:49 PM