SPONSOR SPOTLIGHT: RENOVATIONFIND
Mar 7, 2023, 18:12 PM
We're excited to have RenovationFind as a sponsor of the 2023 Edmonton Home and Garden Show. Before you visit this innovative company at the Edmonton Expo Centre from March 23-26 please enjoy our brief interview with the RenovationFind team below.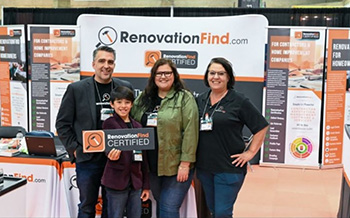 Q. How does your service work?
RenovationFind.com is a free online directory of vetted and certified home improvement companies, contractors, and trades. You can browse multiple categories to find trustworthy contractors for your home project. We put each company through a thorough screening process that includes credit and background checks. In addition, we ask for provincial licensing, liability insurance, and WCB coverage. Then, a third-party organization monitors the companies for compliance, checking online reviews and customer complaints.
In addition to all that, we offer digital marketing services to companies that are certified on our website. Those services include social media marketing, blog articles, email campaigns, and search engine optimization. We want to promote reputable and worthy companies in the industry.
Q. What can we look forward to from you at the Edmonton Home & Garden Show?
As always, we will have a large booth at the show. You can chat with us there; we will help you find contractors for your home projects! You can "Post a Project" at our booth. We will send your details to three relevant companies, who will get back to you with estimates. For example, if you need some electrical work for your home renovation, we'll send your details to three of the best electrical companies in Edmonton.. Then, those companies will contact you for more information and to provide a quote.
Also, you can sign up for a RenovationFind Membership, and we'll enter you to win $1,000! In addition, your membership will give you exclusive promotions and discounts from our select partner companies in Edmonton.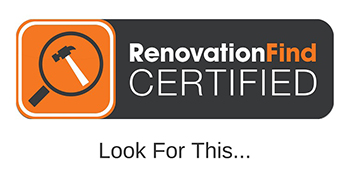 Q. What advice can you offer homeowners?
Always do your research before hiring anyone to work in your home! And you can't always trust online reviews. Instead, it would be best if you spoke to multiple companies to get an idea of what they're like and what they offer. Also, ask to see a business license, WCB and liability insurance. Without those items, you could be putting yourself and your home at risk during the project.
You should also check references, ask for photos of their work, and get quotes from multiple contractors. Doing these extra steps at the beginning of the project will help it go smoothly. You can find pre-screened contractors at www.renovationfind.com.


What inspires your services?
I own a granite company in Edmonton and have been in the renovation industry for several years. Over the years, I have heard countless stories of bad contractors taking advantage of homeowners. Sometimes the work is done poorly, or they run off or go out of business before even completing it.
We wanted to create a data-driven solution that helps homeowners connect with trustworthy contractors. In addition, the service helps ethical and worthy companies get more work. In the end, it improves the industry's reputation overall.
What is your favourite part of the Edmonton Home and Garden Show?
I like meeting new people and learning about their projects. I also like to meet new companies and learn how they're helping homeowners improve their homes. But, my favourite part of these shows is helping connect those homeowners with honest companies. It is a win-win for everyone and very rewarding.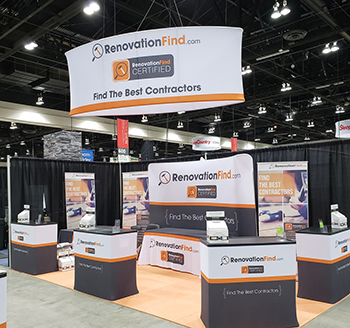 Q. Are there any success stories you'd like to share?
Because RenovationFind is a data-driven website, we rely heavily on feedback collected in surveys and other means to improve and fine-tune the service. Homeowners have reported positive experiences using the directory. They've also been pleased with the companies they've hired for their home projects through the website. So, if they need a reputable interior designer, general contractor, painter, lawncare company or the best painting contractors in Edmonton, they can find one on our website!
We've also received positive feedback from the certified companies on our website. The RenovationFind Certification has allowed them to improve their brand of trust among their target demographic. In addition, our marketing services help drive web traffic, leads, and new business.


Q. What can people expect when they work with you?
Homeowners can find honest and quality home improvement companies and renovation contractors on our website. We have listings in several categories, including windows and doors, landscaping, major renovations, flooring installers, plumbers, the best air conditioning and repair companies in Edmonton, and many others.
If you are a RenovationFind Member, we'll send you exclusive promotions from our select partner companies. Plus, you'll get discounted pricing from them too. So sign up online or at our booth at the show.
If you're a renovation business, we can help you improve your online presence and gain trust among potential customers through our certification and digital marketing services. You can learn more about that by contacting us or come and say hello if you're at the Edmonton Home and Garden Show!